Paavo Nurmi Games and festival want to be a responsible influence in the Turku region and in people's everyday lives.
Paavo Nurmi as a benefactor
In addition to his sports career, Paavo Nurmi was a great benefactor. During the Winter War, Paavo Nurmi went to the United States to participate in collecting money for Finland. Paavo Nurmi established a foundation bearing his name, which supports research on cardiovascular diseases and general public health work in Finland.
The Liikuttava Lahja charity program is part of the year-round Paavo Nurmi Festival, the goal of which is to encourage people of all ages to be physically active.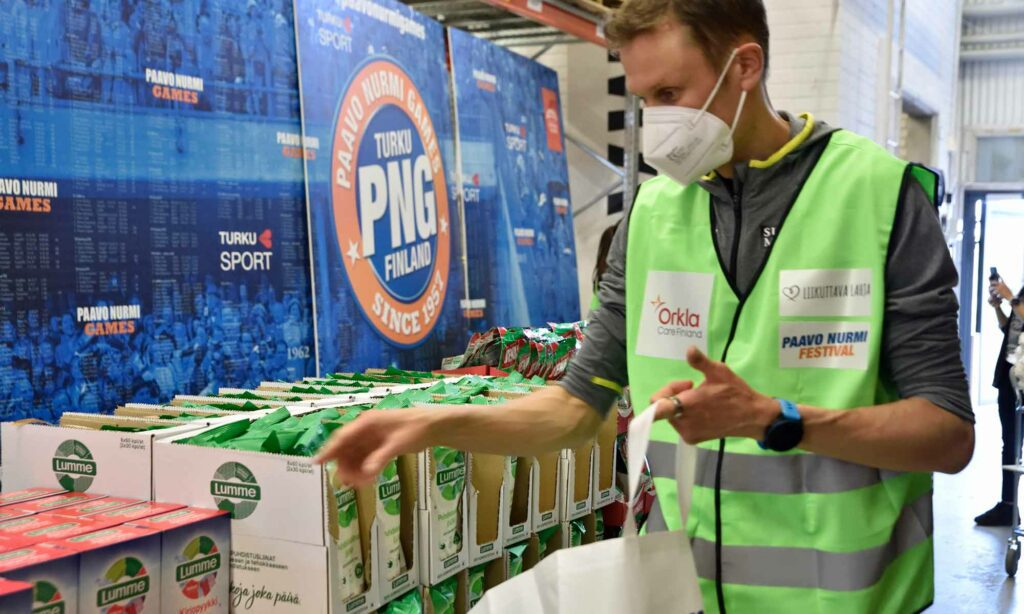 Liikuttava Lahja – Christmas collection
The Turku and Kaarina Parish Union and Paavo Nurmi Games collect money to make a physical activity hobby possible for needy families. We want to ensure that every child has the chance to experience the joy of physical activity and the feeling of success and community.
The money donated to the collection will be used to support needy families living in the Turku and Kaarina region and help them pay the annual fees for a physical activity or sports hobby and purchase the necessary equipment.
Liikuttava Lahja charity program – Food assistance
The Liikuttava Lahja charity program's collection campaign has donated bags containing health and hygiene products to the food assistance programme run by Turku and Kaarina Parish Union's diaconal work. Athletes have filled 2,000 bags with health products.
The coronavirus era has increased the need for food assistance and the shortage of basic everyday essentials. The health bag campaigns carried out in spring 2020 and 2021 have made daily life a bit easier for up to 1,500 households.